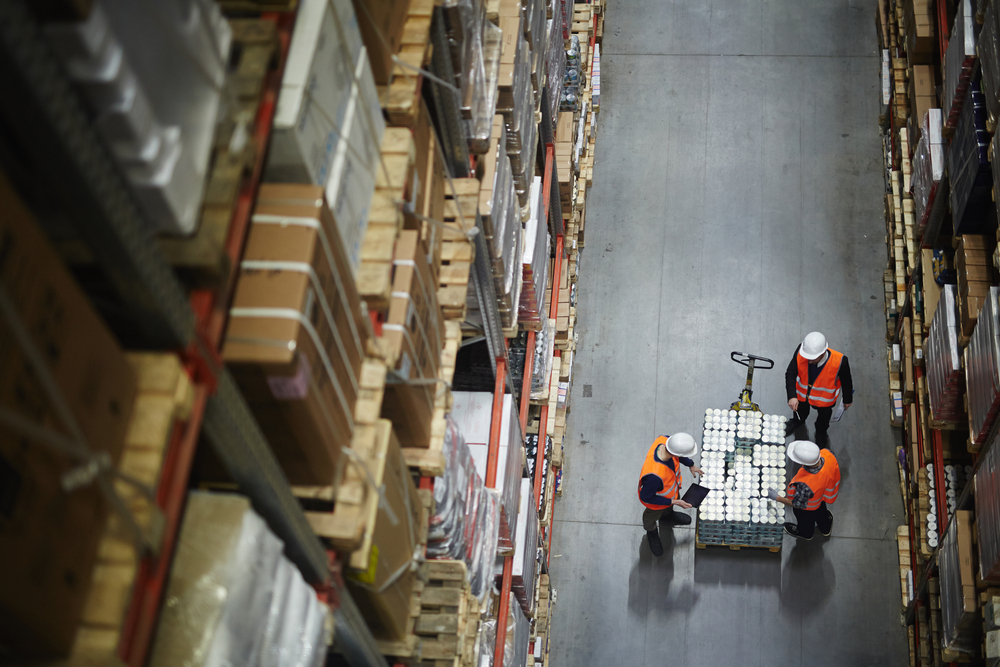 An Phu's warehousing service is composed of managing each warehouse-related activity such as:

+ Layout, design the warehouse structure and the means of storage, loading and unloading in the warehouse
+ Merchandise management: includes sorting, locating, cataloging, labeling or disposing of poor quality goods.
+ Inventory of goods: adjustment of differences (if any), inventory, record keeping.
+ Managing import and export of goods.
+ Ensure the safety of goods and workers
+ Prevention of theft and fire.



Warehouse types:
The types of warehouses in logistics are basically divided as follows:

Bonded warehouse: A bonded warehouse is a warehouse or yard area that is separated from the surrounding area to temporarily store, preserve or provide services for goods brought from abroad or from within the country. into the warehouse according to the bonded warehouse lease contract signed between the bonded warehouse owner and the goods owner. Bonded warehouses can be owned by the state or by private companies

At bonded warehouses, owners of goods stored in warehouses can directly authorize warehouse owners or customs clearance agents to perform services such as reinforcing, dividing, packing; packing goods; classification of goods, goods maintenance. In addition, it is also possible to transfer ownership of goods, transfer goods two-way between the bonded warehouse and the border gate, between bonded warehouses together, and carry out import and export procedures. At An Phu's bonded warehouse, your documents and customs clearance procedures will always be handled with the fastest speed.



CFS warehouse (container freight station): A CFS warehouse (also known as a retail collection location), is a type of specialized warehouse for collecting or separating retail goods for general container transportation. CFS warehouses are often used when shippers do not have enough stock to fill a container (FCL). Services at CFS warehouses include packing, repacking, arranging and rearranging goods awaiting export. Here, the goods will be brought to the collection site to wait for import-export procedures if necessary, then split or pack together containers for export abroad.

The retail warehouse area (CFS) of Kuehne+Nagel Vietnam covers an area of ​​11,000m2 and is a part of the Kuehne+Nagel logistics center in Dong Nai. Under the management of a team of experts and thanks to a convenient geographical position for import and export, the transit time and quality of stored goods will always be ensured at the most efficient level.

Tax suspension warehouse: A tax-suspension warehouse is a warehouse used to store imported raw materials and supplies that have been granted customs clearance but have not yet paid tax for the production of exported goods of the owner of the tax-suspension warehouse (Article 4 of the Customs Law). No. 54/2014/QH13). Accordingly, tax-suspension warehouses are usually owned by enterprises and these enterprises will be responsible for themselves and coordinate with customs authorities to facilitate the inspection and supervision of tax-suspension warehouses.



Requirements when managing inventory
As a storekeeper, An Phu always fulfills the following requirements for smooth and efficient warehouse operations:

+ Create a warehouse map.
+ Update as soon as changes occur.
+ Marks with goods location stickers must be clear and easy to understand.
+ Guide and control loading and unloading operations.
+ Responsible for the manner and quality of goods when loading and unloading.
+ Control the import and export activities and movement of goods in the warehouse.
+ Good storage of goods.
+ Clean and arrange the warehouse clean and tidy.