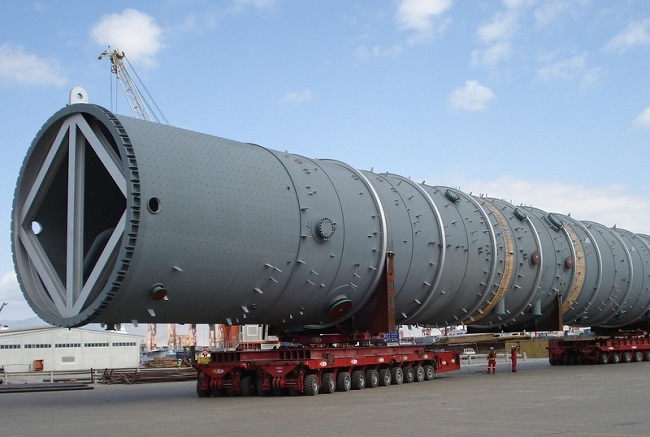 For an extra-heavy transport unit, it is necessary to fully meet the following factors:
+ The shipping unit needs to have a business registration and meet all business conditions as prescribed by law
+ Technical teams, drivers and workers use super-heavy transport vehicles as well as specialized technology equipment.
+ Regularly coordinate with relevant agencies such as developing a plan to transport extra-heavy goods to ensure the safety of people as well as goods of traffic works.
For the consignor:
It is necessary to notify the carrier of the place of loading and unloading, and the weight of the goods. Besides, it is necessary to be responsible for the shipping mark such as the name, address of the recipient, sender, size, ..... And solve problems arising in the implementation process.
For the licensing of circulation:
Vehicles transporting super-heavy goods are only allowed to circulate on sections or roads. Specifically, in some special cases, other types of road motor vehicles are not used or there is no suitable transportation plan.
For oversized vehicles, circulation permits are not allowed in case of transporting disassembled goods.
What is a super-heavy vehicle?
According to the provisions of Circular 46/2015/TT-BG TVT, there are separate regulations on means of transport of oversized and super-heavy goods. In which, the super-heavy cargo vehicle will have the size and load suitable for the types of goods transported. At the same time, it will also conform to the parameters recorded in the vehicle's technical safety inspection certificate as well as environmental protection.
In the case of super-heavy trailers with interlocking features used to transport oversized loads, the registry office will certify technical safety and environmental protection.
For vehicles transporting extra-long and super-heavy goods, it is also necessary to pay attention to the specified speed and to notify in advance about the size of the goods. In case of necessity, there must be a traffic guide to ensure safety during the transportation of goods.
An Phu provides the service of reputable transportation of oversized and super-heavy goods across the country, the items we usually transport include all kinds of heavy industrial machinery and equipment such as boilers, CNC machines such as presses, stamping machines, cutting machines, all kinds of tanks, construction machines, super-heavy containers such as: Flat rack containers, Open top... , We are committed to bringing the best transport service to our customers, with the best price in the market.